the Boardinghouse
The 1/2/sleep Boardinghouse Unterschleißheim Zentrum extends over four floors and offers 58 practical single, double and multi-bed rooms for temporary living. The rooms of the boardinghouse are perfect for accommodating individuals, but also larger groups.
Enquire now
Zimmer
3x Einzelzimmer
15x Doppelzimmer
35x Twinbettzimmer
5x 3-Bettzimmer
Alle Zimmer sind ausgestattet mit einem Bad, Schrank, Sideboard, Kofferablage, Kühlschrank sowie TV & Radio.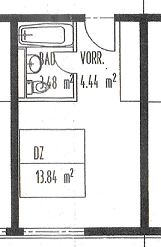 furnishing
The single and double rooms in the Boardinghouse are fully equipped. These include spacious wooden wardrobes, wooden beds as well as sideboards and desks. In addition, our rooms have small refrigerators, luggage racks, TVs, radios and private bathrooms.
A laundry room offers the possibility to wash and dry clothes. There is Wi-Fi available for a fee, a vending machine for soft drinks and snacks, and seating facilities. Extra beds or baby cots are also available on request.
There are 22 free parking spaces in front of the boarding house, one disabled parking space and two mini-parking spaces.
how to find us
1/2/sleep Unterschleißheim/Zentrum
Rathausplatz 8
85716 Unterschleißheim
opening hours reception
Mo - Fr: 11 am - 8 pm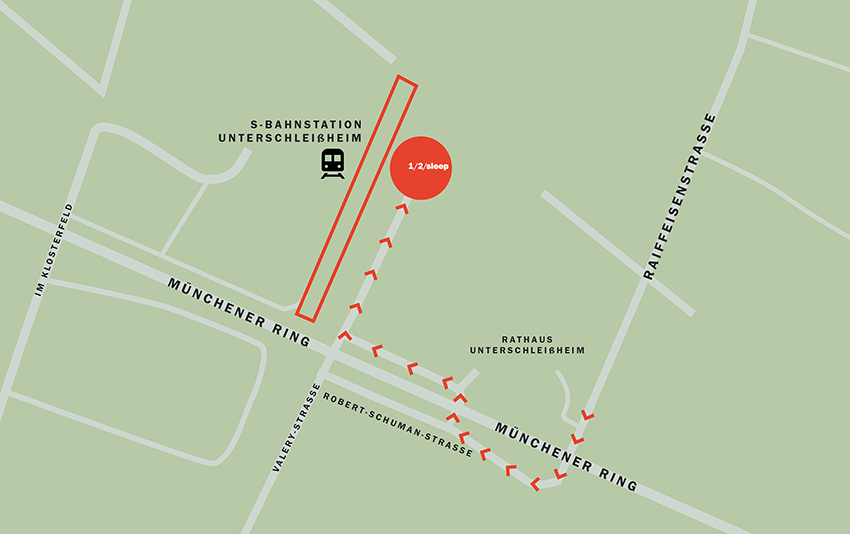 Location
The S-Bahn station "Unterschleißheim" is only a few minutes' walk from the boardinghouse. From here you can take the S1 to get to the airport or to Freising.
By car, the Boardinghouse can be reached via the Autobahn A92 or the Bundesstraße B13. It is located north of Munich and about 20 km from Munich city centre and the Munich main railway station. The journey by car takes about 30 minutes. The Munich Airport can be reached in about 20 minutes by car, distance approx. 20 km.